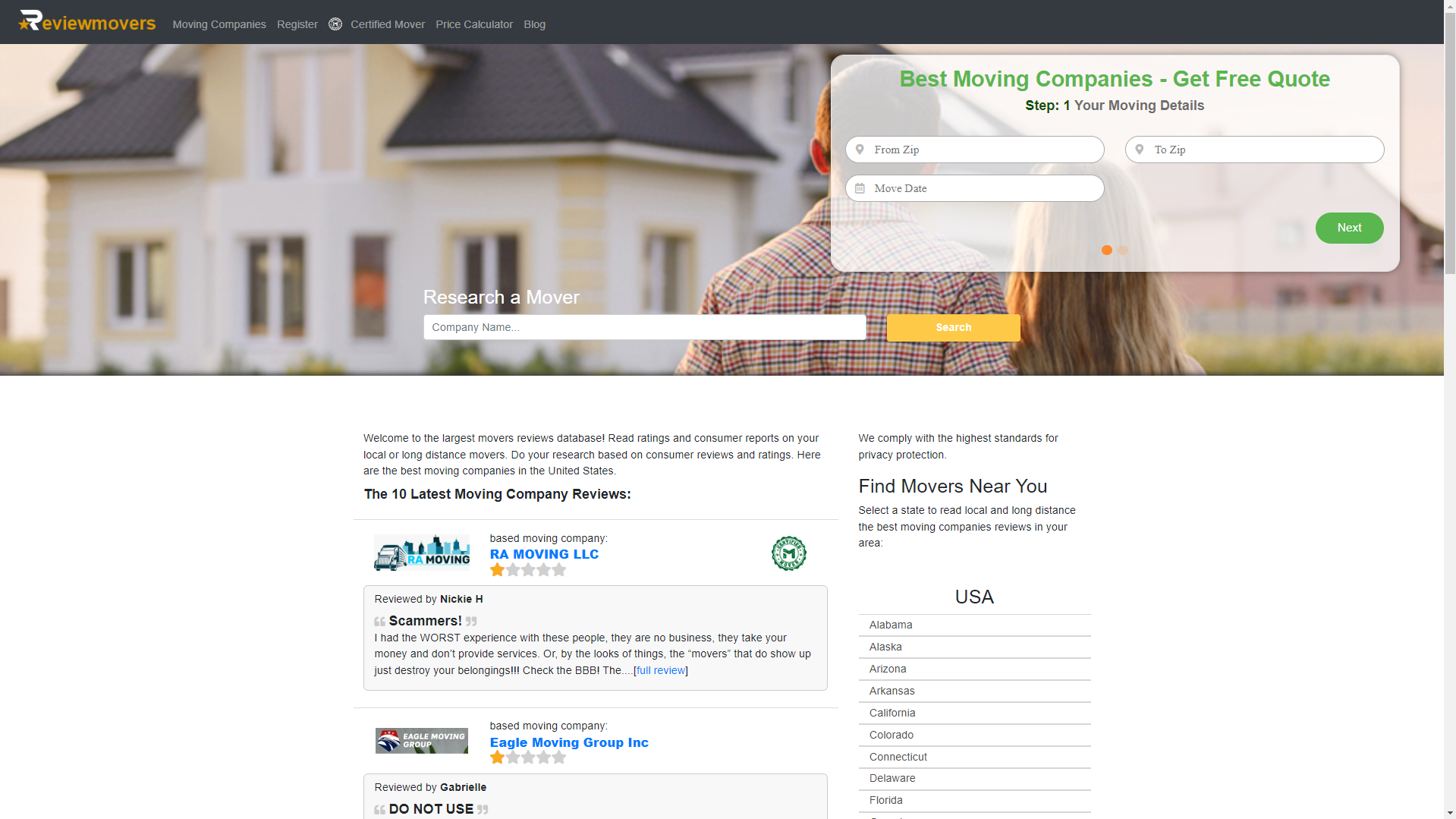 Review Sites Help Consumers
We created a review website specifically designed to help consumers make informed decisions when selecting a moving company. The site offers a wealth of information about available moving companies, their offerings and customer feedback collected from past customers. Not only does this site help people find the perfect movers for their needs, but it helps the industry as well by generating site traffic and increasing awareness of all the options available to them. With our review site, you can confidently choose a reliable moving company with confidence knowing that you've made an educated decision based on reviews from real customers.
Lead Generation for Companies
Released recently, our review site for moving companies offers site traffic an unprecedented level of transparency when it comes to choosing the service for their upcoming relocation. Plus, as one of a limited number of such sites available, ours offers customers plenty of vetted information from which to make a decision. As such, it can help the industry by ensuring users thoroughly investigate the company they're interested in working with before making a commitment. This could lead to more leads than ever before since customers will be able to make a better-informed decision through tons of user reviews and other vital data about services available on the site.
No-Cost Project Estimation
After the initial chat, UX Omnitech is beneficial. We excel at assisting businesses that need our services. How could we possibly know that we can assist without ever having the conversation? One of our experts would be happy to speak with you to go over how your online campaign could be improved. The consultations with UX Omnitech are only intense because of how educational they are. We'll list the problems and inform you of our options for resolving them. no commitment
Content for Essential Pages
Without sacred texts, stained glass, and cultural personifications, what is a temple? The walls, pews, and foundation of your pages are their layouts, but without the beauty that makes them uniquely yours and the content that will boost their search engine rankings, they are unlikely to draw followers. Each page's content is much more crucial to search engines. We provide natural, pertinent, and SEO-friendly content for the pages. Words are only words until they are carefully incorporated into your website and increase visitors.
Getting your domain up as soon as feasible used to be in everyone's best interest. In the modern industry, hosting a website involves much more. DDoS attacks and breaking a backend are concepts that the common person is familiar with. Consequently, it's crucial to adjust to the danger. We may host you on our sophisticated servers to maintain the site's speed, security, and adaptability at all times. Any invaders will practically face burnt earth since even our backups have backups.
Despite the fact that user interface and user experience frequently go hand in hand, it is typical to encounter developers who only take one or the other into account. When creating, a competent web developer will take user experience and interface into account. The common mistakes take shortcuts that result in a functional but unpleasant experience or arise when a developer takes on too much and breaks the interface's cohesiveness. UX In a never-before-seen combination, omnitech marries utilitarianism with aesthetics.
The completed products from UX Omnitech include the essential pages that act as the framework for the traffic-generating machine they were designed to be. Each page is created with layout adherence in mind to produce a small but early boost in the SERPs. To retain their reputation, search engines do all in their ability to stop people from clicking on damaged websites. You will stand out from the competition with optimized layouts. The layout is the temple as far as search algorithms are concerned.
A wealth of English and Research Masters may be found at UX Omnitech. While the majority of the struggle is having an optimized website, standing out in the tight competition depends on having an active one. We may assign a blogger to your website so they can update your blog as often as you like. The content creators might build on your ideas or start from fresh using your material. With a few words, you may inform us about trending subjects, issues in your sector, and more. Alternatively, you can rely on market research. Both ways are valid for our material.