MoverXpro 360 is the first moving logistics management software and customer relationship management software made by UX Omnitech. The application was built from scratch with the express purpose of serving the real needs of moving companies. We are particularly proud of this application, as it is a powerful tool with the potential to change the practices of moving companies for the better.
Ways it Helps Movers Become More Organized
MoverXpro 360 was built with an in-app ticket system. Tickets can be created from a moving company user's screen as well as the customer portal, maximizing customer communication. This helps managers keep their customer service reps more accountable. It gives them the ability to view the tickets that have and haven't been resolved. Information on when the ticket was created is displayed as well. This way, disciplinary action may be taken at each company's discretion when poor performance is apparent.
Built-In Follow-up Calendar
MoverXpro 360 includes a built-in follow-up. Moving companies put a lot of effort into following up with potential and existing customers, but sometimes it's difficult to keep track of all the connections. This is where MoverXpro 360's built-in follow up calendar comes in handy – it helps moving companies stay more organized and productive by monitoring their follow-up activities in one system. Regularly following up with customers plays a crucial role in acquiring new business. It also helps offer more assistance or guidance to existing customers. With MoverXpro 360's calendar, following up has never been easier because the schedule is all managed in one place-no more writing everything down, using third party apps, or losing information along the way. The follow-up calendar plays an important part in helping moving companies succeed and become more efficient!
Job-Specific Media File Storage
By providing job-specific media file storage and sharing, MoverXpro 360 makes it easier than ever to stay organized and streamline the way a moving business operates. Not only will this help create accurate quotes in a timely manner, but it will also have a positive impact on pickup performance; having all relevant information available in one location ensures smoother delivery of services. As such, utilizing MoverXpro 360's job-specific media file storage gives movers an edge over their competitors. It helps foster accurate communication between customers and employees, creating a more seamless and organized experience for everyone involved.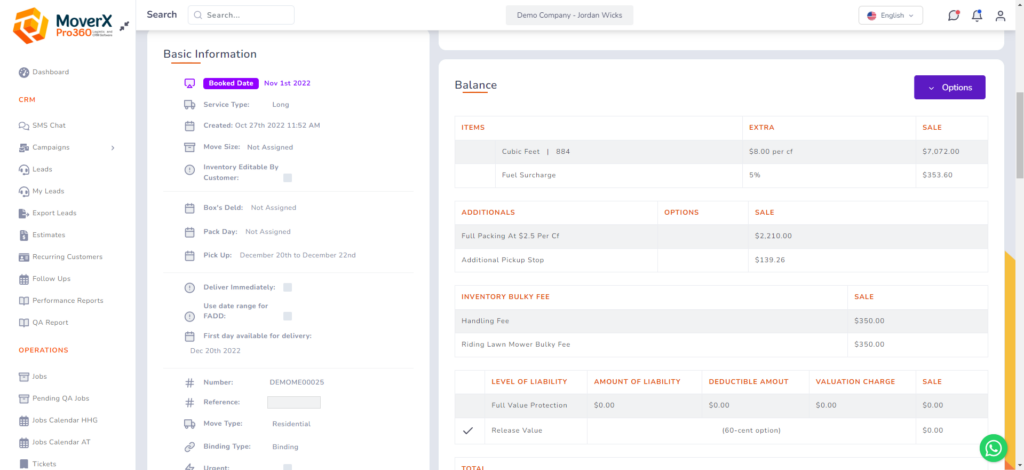 MoverXpro 360's automated fees system is revolutionizing the way moving companies work. The automated bulky item fee calculator and 2nd stop fee engine make sure that the quotes created for customers are accurate and all costs are included in a simple, easy to understand format. This cutting edge technology makes it easier than ever for moving companies to create accurate quotes and stay organized, so they can focus their time and energy on other areas of their business.
How MoverXpro 360 Saves Moving Companies' Money
MoverXpro 360 saves companies money by performing all the tasks needed to run a moving operation. The system eliminates the need for third-party applications, which were previously required to complete these tasks. MoverXpro 360 also increases company efficiency with its features which leads to better performance, organization, and an increase in revenue.